Amazing Grape Race - June 1st thru June 30th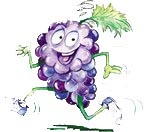 June 15, 2013 @ 5:24 PM
On Your Mark, Get Set, Go!
The 3rd Annual Amazing Grape Race is from June 1st – June 30th in celebration of June Ohio Wine Month. Contestants pick up their free race cards from the participating wineries along the Lake Erie Shores & Islands Wine Trail and supporting convention & visitors bureaus for a chance to win fabulous prizes. The prizes are provided by the Amazing Grape Race partners and include:
Sawmill Creek Resort:
Deluxe double room, transportation to and from Paper Moon Vineyards and Quarry
Hill Winery for a wine tasting and appetizers for two, amenity wine basket, and
breakfast for two
website
Goodtime I-Lake Erie Island Cruises:
Wine
tasting dinner cruise
website
Jet Express :
Jet Express trip
website
Miller Ferries
to Put-in-Bay and Miller Bass Island::
Round trip ferry ride for two
website
Vintage Ohio
Wine Festival:
Gift certificate to the Vintage Ohio Wine Festival (Aug 2nd
& 3rd)
website
Contestants must visit all of the participating wineries within the month of June and have their race card endorsed to be entered into the contest. Once the Amazing Grape Race card is completed, it must be mailed to Ohio Wine Producers Association at 33 Tegam Way, Geneva, OH 44041 by July 12, 2013. The first one hundred contestants who return their cards will receive a wine and food pairing wheel and a complimentary 6-bottle wine tote to fill with the wines they discovered so they may Take Home the Experience to enjoy with family and friends. (Limit of one per household.)
Drawing will be held the week of July 15, 2013.
Amazing Grape Race entry
cards may be picked up from the following locations or through Northcoast Grapevine Tours:
Amazing Grape
Race Participating Wineries
Chateau Tebeau,
525 St. Rt. 635,
Helena
D & D Smith Winery,
401 W Main St., Norwalk
Firelands
Winery,
917 Bardshar Rd., Sandusky
John Christ Winery ,
32421
Walker Rd., Avon Lake
Klingshirn Winery,
33050 Webber Rd., Avon Lake
Matus Winery,
15674 Gore Orphanage Rd., Wakeman
Mon Ami
Restaurant & Winery,
3845 E Wine Cellar Rd., Port Clinton
Paper
Moon Vineyards,
2008 State Rd.(OH 60), Vermilion
Quarry Hill Winery,

8403 Mason Rd., Berlin Heights
Vermilion Valley Vineyards,
11005
Gore Orphanage Rd., Wakeman
Amazing Grape Race Supporting Convention
& Visitors Bureaus
Huron County Visitors Bureau,
10 West Main
St., Norwalk
website
Lake Erie Shores and Islands-EAST,

4424 Milan Rd., Ste. A, Sandusky
website
Lake Erie Shores and Islands-WEST,

770 SE Catawba Rd., Port Clinton
website
Sandusky County CVB,
712 North
St., Ste. 102, Fremont
website
Visit Lorain County,
8025 Leavitt
Rd., Amherst
website
*******************************
Let Northcoast Grapevine Tours help you win the race and keep you safe at the same time!! Instead of taking the self driven tour why not sit back and let us do the driving for you? It would also be less expensive then risking a DUI and your life. Contact us at 440-282-6598 or at info@northcoastgrapevinetours.com